Emergency Tree Removal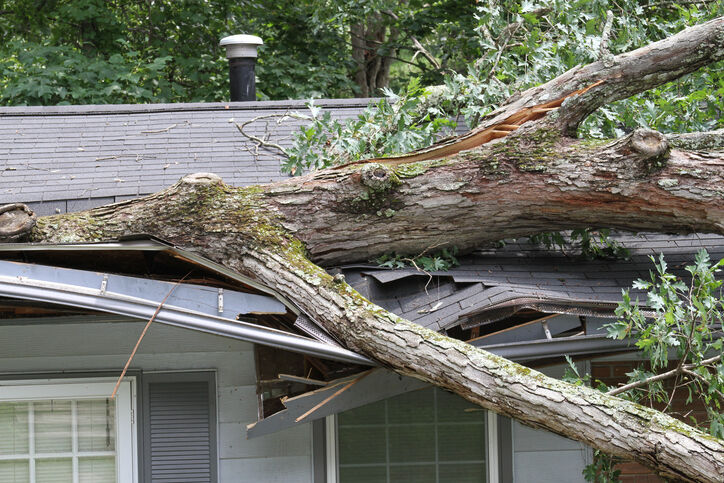 Being a homeowner comes with many responsibilities, and when your home has suffered storm damage, you may have more on your plate than you ever imagined. Storms and flood damage can not only damage roofing and siding, but they can also damage the roots of your large trees, and rip smaller trees right out off the ground. If you find yourself in need of emergency tree removal, call the tree experts at Guaranteed Tree Service we will fully remove the tree while preventing further damage to your structures. Call (678) 723-3627 if you are dealing with a fallen tree.
10% OFF
First Responders, Veterans, Active Duty
expires 12/31/2023
---
Call for a FREE Quote
---
When is Emergency Tree Removal Necessary?
If a tree on your property becomes damaged from a storm or accident and becomes unstable, serious problems can arise if left untreated. Examples of emergency tree situations include broken branches hanging over power lines or public areas, a tree that has fallen on a car or a tree that has fallen and crashed through a window or siding of your home. If you require emergency tree removal services, Guaranteed Tree Service can help. We have been in the business of removing dangerous trees for over 21 years. Call (678) 723-3627 for rapid service.
What to Look for In a Tree Removal Contractor
When it comes time to make a decision on who to choose for your emergency tree removal services, the team at Guaranteed Tree Service is the best choice for the job. When it comes to finding the right company, customers choose us for the following reasons:
Reliability: Emergency situations require immediate assistance. If you contact Guaranteed Tree Service for emergency tree removal, you can rest assured we'll be there to help no matter the time or season.
Affordability: Dealing with an emergency is stressful enough, and Guaranteed Tree Service offers affordable services so you have one less thing to worry about.
Experience: Our team has been in business since 2002, so we have seen every type of situation out there and provide the right solutions to fix them all.
What Should I Expect From Emergency Tree Removal Service
While every tree removal company works differently, you can expect a similar timeline of events to occur after you make your initial phone call.
Safety: When it comes to safety, Guaranteed Tree Service takes every step possible to ensure the scene is safe. The very first thing Guaranteed Tree Service does when on a call is to check the safety of the situation. Do people need to be moved to another location? Do first responders need to be called? What steps can we take to secure the tree and offer a safe solution?
Damage: It's important the tree removal service doesn't cause any more damage, so we work diligently to provide the best possible solutions.
Communication: From the very first call to after the tree has been removed, our team will keep you informed. Once the tree has been removed we will talk with you about the options you have to fix any damage that may have arisen.
Contact Guaranteed Tree Service Today
If you find yourself in the unfortunate situation of needing an emergency tree removal, be sure to contact the experts at Guaranteed Tree Service. Our team is here to provide our 21 years of expertise to keep you safe, so contact us today.
---
Call for Fast FREE Quote
---