Storm Damage Cleanup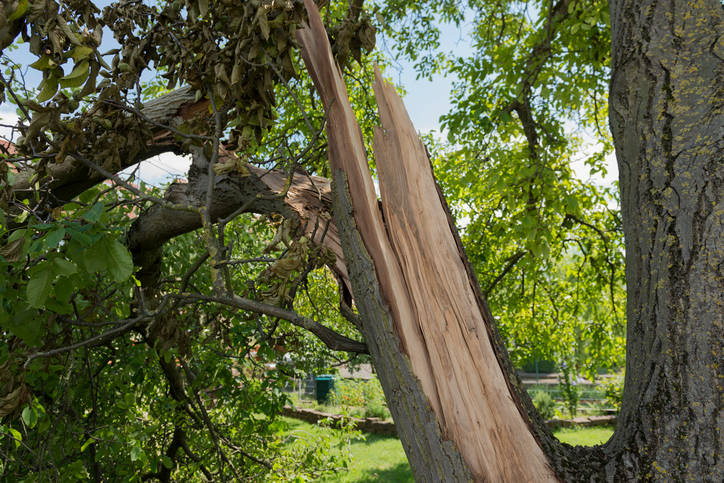 Sunshine after a bad storm is a welcome sight for property owners. It is during this time that you would assess the damage and start putting things in order around your home or business. You can do a lot of this work yourself, but some things require the help of professionals. Taking care of storm damage by clearing fallen trees that litter your property is a task that is best outsourced to a licensed and insured tree service contractor. Guaranteed Tree Service has been cleaning up fallen trees and debris after storms for 21 years.
10% OFF
First Responders, Veterans, Active Duty
expires 12/31/2023
---
Call for a FREE Quote
---
Hazards of Storm Damage
Trees that have been weakened by high-speed winds sometimes fall on roofs, cars, and people. Flying branches that hit power lines will cause electrical problems and downed power lines which could lead to fatalities if they are accidentally touched. Hiring a professional tree service contracting company that specializes in storm cleanup helps you to quickly clear away these safety issues before people are hurt or property is damaged. Guaranteed Tree Service has the experience to assess storm damage and to generate the safest, most effective plan of action to clear away fallen trees and debris.
Benefits of Storm Damage Cleanup
Nothing reduces curb appeal as quickly as a severe storm. Your once polished landscape becomes littered with tree limbs, leaves, and an assortment of the neighbor child's toys. Depending on the extent of the storm's damage, you'll need special tools, equipment, and time to make your outdoor living space livable again. When you hire Guaranteed Tree Service for your storm cleanup needs, you won't have to rent complex equipment and spend hours clearing fallen trees and debris from your land. We comply with our industry's safety and performance standards to quickly clear away fallen trees, branches, and yard waste. Give us a call at (678) 723-3627 for a storm cleanup consultation.
Let Guaranteed Tree Service Take Care of Storm Damage Cleanup
After a storm, there are nearly a thousand things on your to-do list. Yard cleanup is one of those items that you check off your list right away with a simple phone call to Guaranteed Tree Service. We use commercial tools and equipment that allow us to work more efficiently than the average do-it-yourselfer. We've been delivering pristine lawns after storms since 2002, and we identify potential, post-storm issues on your land that you might not notice.
---
Call for Fast FREE Quote
---